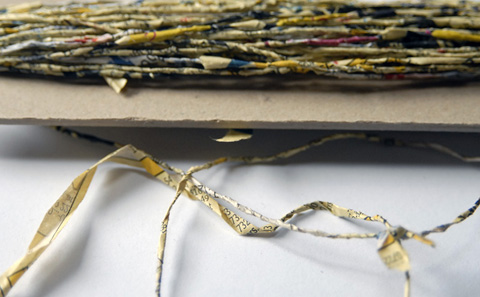 My stay in Italy was prolonged because I underestimated the cold weather and instead of travelling back to Vienna I had to stay in bed. At least I had time to think about what I want (besides good weather) and especially what I want for PaperPhine.
Lately I have been asked a couple of times if I also had handmade paper yarn made of newspaper – well, of course I do. I have been making and experimenting with handmade paper yarns out of Japanese and Korean Washi, Nepalese Lokta paper as well as Western industrial papers for years though I have never offered the yarn itself for sale. To make paper yarn by hand is a laborous process starting with choosing the right paper to work with (perfect sheets as equal as possible), cutting it concertina-like by hand, dampening it (but not too much!), finally the work at the spinning wheel, etc…
Handspun paper yarn out of "Eastern" handmade papers is quite tear-resistant due to the long mulberry and lokta fibres used. It has a wonderful textile feel to it, soft and warm. In regular intervals there are little thicker "nods" due to the cutting process – in a traditional woven "shifu"-garment made of paper yarn these nods are a sign for quality and are incorporated into the design.
Paper Yarn made of "Western" papers (e.g. newspaper) is more irregular and not as soft to the touch. But it has a very decorative effect to it and using a newspaper that is printed on a special day of the year (e.g. your birthday!) for one of your projects is an interesting and perhaps tought-provoking idea depending on what is made out of it.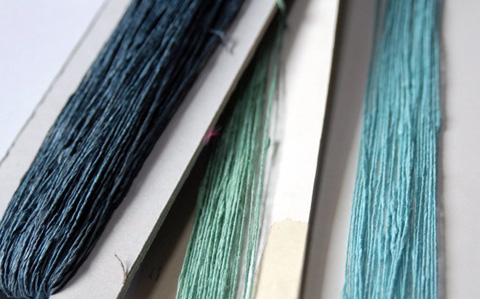 My little shop on etsy and probably dawanda as well will be updated with corners (well, categories) dedicated to handspun paper yarns as soon as I'm back in Austria and back to fast internet connections…