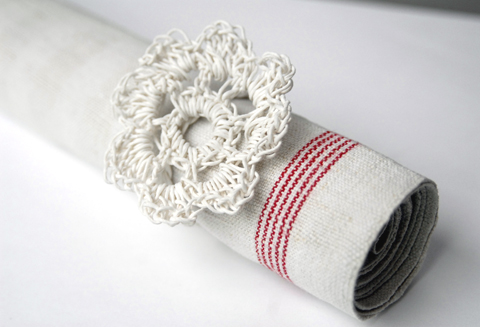 White Crocheted Flower made out of Strong White Paper Twine adorning an old linen napkin
After last week's post on How to Make Crocheted Paper Flowers using White Paper Twine we've been asked what to do with the flowers – especially since once you start making them your bouquet will grow quickly.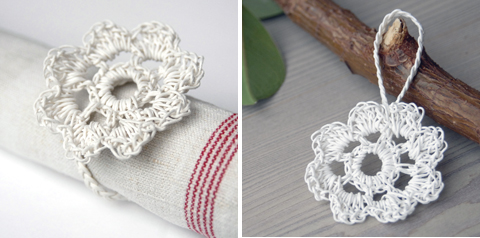 Two quick-to-realize ideas are to use the flowers in combination with a braided paper twine cord and make napkin rings or hanging ornaments out of them. The ornament is by now fixed onto the bunch of studio keys – thanks to the paper twine's sturdiness there is no need to worry about the flower not surviving the tossing around in bags and purses.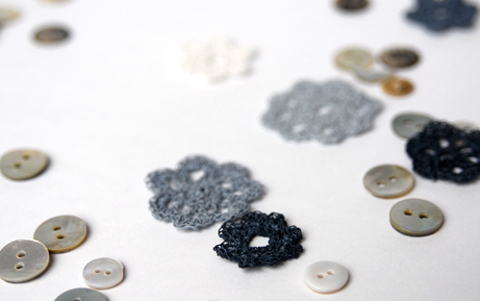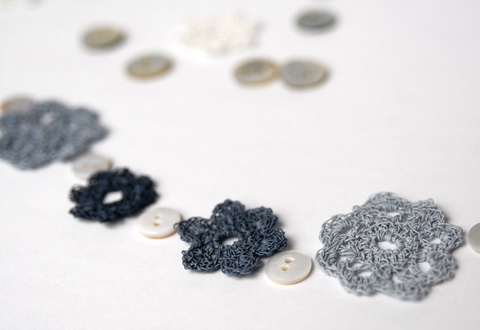 Small Crocheted Flowers made out of Finest White Paper Yarn dyed in blue-gray hues.
By now are Crocheted Flowers have gotten smaller and more delicate – using the Finest White Paper Yarn and dyeing the flowers in blue hues when they are readily crocheted. We were lucky to find a bag of old, genuine mother-of-pearl buttons in one of Vienna's small haberdashery shops – and now we're planning a fine necklace combining the two materials that beautifully complement each other. We'll keep you posted.