Fine Papery Geometrical Structures obscuring the feeling for space in the Exhibition Nendo: Thin Black Lines currently in the Saatchi Gallery, London. Thanks to boyfriend for taking the picture!



People among Nendo's Thin Black Lines. (This photograph by Haarala Hamilton Photography).



I was in London the other week for some inspirational input, design and art viewing and mostly window shopping. No need to tell you that London still is one of my favourite cities (if only rents weren't that high…). One of the paperwise most interesting design bureaux I discovered are Nendo, presented by Phillips de Pury at the Saatchi Gallery. Showing very straight and simplified furniture design pieces that are united by the theme of outlines, the space of the exhibition room itself was divided by the black, cubic structures shown on my pictures. I'm not completly sure what those stuctures are made out of but it looked (no touching this time) a lot like a specially coated paper and since Nendo has been working with paper before this wouldn't suprise me.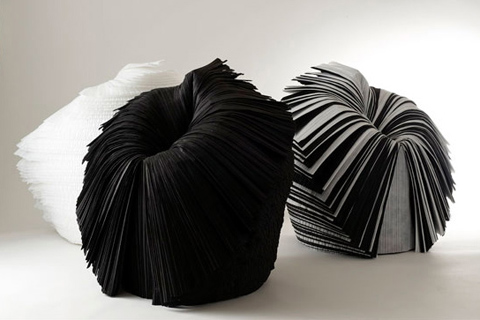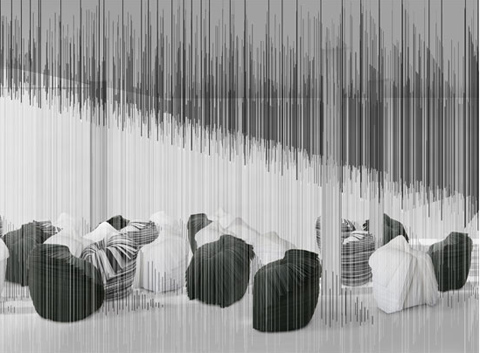 Cabagge Chairs by Nendo and installation view in the Friedman Benda Gallery in New York featuring forty of cabbage chairs in 2009
Originally the Cabagge Chairs were made out waste paper from the pleated fabric industry of Issaye Mijake. The new modells are made out of a non-woven textile to retain the light pleated feeling that characterized earlier versions while increasing their durability as furniture. Of course I love the older version even more even though I'm deeply interested in non-woven textiles since they are a very strong link between "textile" and "paper". But if you look at the initial construction process of the Cabbage Chairs it's just really cool:
Nendo inititially designed the cabbage chair for the XXIst Cetury Man exhibition curated by Issey Miyake in 2008. Miyake wanted furniture out of the pleated paper that is produced in mass amounts during the process of making pleated fabric and usually abandoned as an unwanted by-product. One of the intitial ideas was too ship the chair as one compact roll for the user to cut open and peel back at home since the production process was so simple.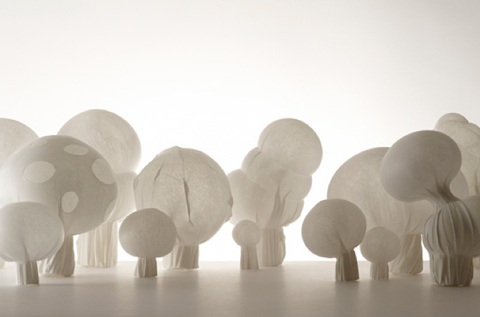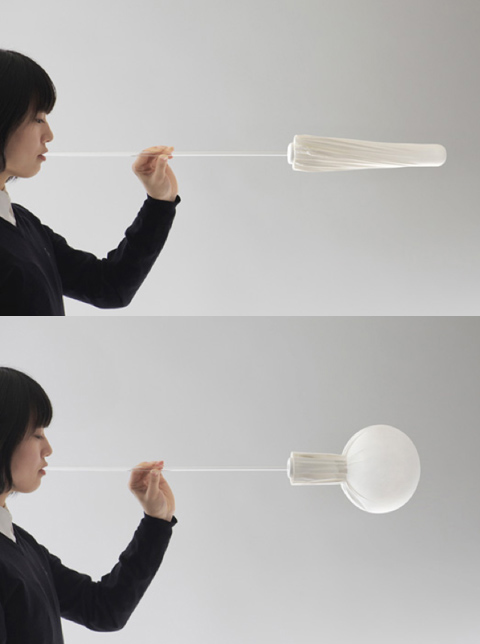 blown-fabric by Nendo
Since non-woven fabric fabric are already a topic here and some of their qualities are a lot like paper (matted fibres!) it seems a good idea to point out one other project by Nendo:
blown-fabric. Made out of a specialized long-fibre non-woven polyester that can be manipulated into different forms through hot press forming technology it's possibly to manipulate each shape during it's creation that is a lot like glass-blowing. The structure of standard chochin consists of thin strips of bamboo wrapped around a wood frame and strengthened with vertical stitching. Japanese mulberry paper pasted over the frame completes the lamps, and gives them their characteristic glow. The use of a hig-tech material instead of the traditional paper gives new possibilities to the design and the creation process – and nevertheless these lamps still remind me a lot of paper (yes, they were on shop in London, too) and of the Japanese paper balloons that I'm admittedly very fond of… if you ever need help blowing up your personal blow-fabric lamp just give me a call!