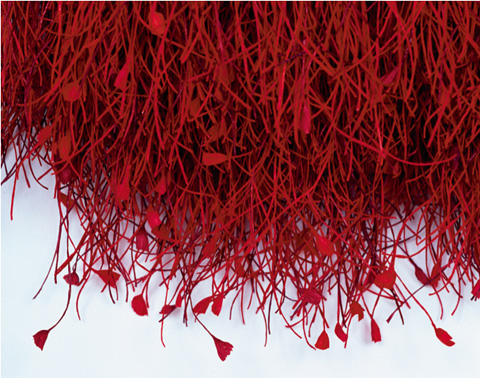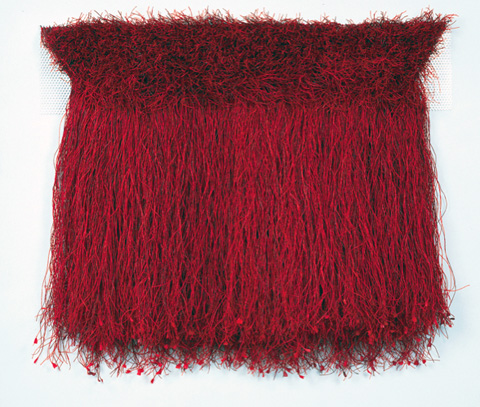 Grethe Wittrock: Heart Blood, 2003. Walhanging, dyed paper-yarn in 6 red colours/some lacquered, knotted on steelplate, 140 x 120 cm.
A very inspiring textile artist who has been working with paper yarns among other materials for years is Grethe Wittrock. I think her work shows the strength of the material especially in her wallhangings where single pieces of yarn that are fragile by themselves are combined to form bold statements.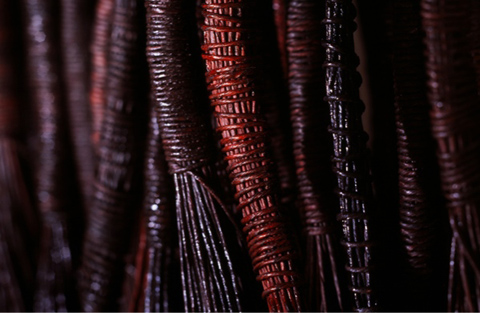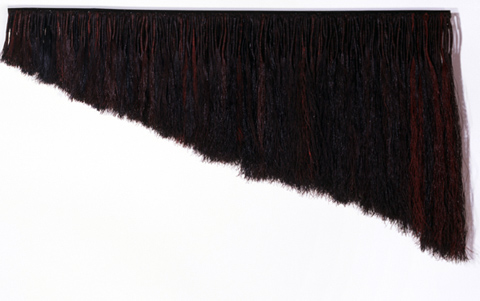 Grethe Wittrock: Amulett I, 2007. Walhanging.


After an initial training as a weaver Grethe Wittrock travelled to Japan where she became fascinated by the Japanese paper tradition. She not only learned Japanese printing and paper making techniques but she also met a paper yarn spinner in Kyoto and took back a whole load of paper yarns to Denmark – I think this could be called fate.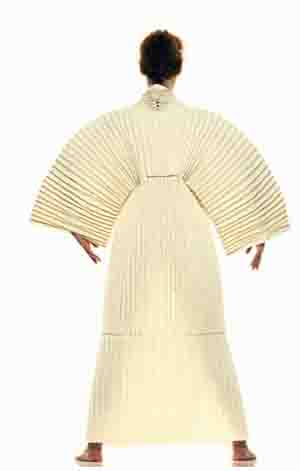 Grete Wittrock and Ann Schmidt-Christensen: Kimono, 1993, Collection 1. The First Collection by Project Papermoon. Japanese paper-yarn handwoven in pique technique and point stitched. Kimono is a unique masterpiece from The Project Papermoon
Grete Wittrock and Ann Schmidt-Christensen: Jeune Couture Collection 1999. The Horse, 1999. Jeune Couture Collection by Project Papermoon. Japanese glass-paper-yarn handwoven in form and geometrically cut. Silkscreen printed.


1993 Grethe Wittwock and fashion designer Ann Schmidt-Christensen started The Project Papermoon resulting in fascinating pieces of clothing that shift between functional and purely aestectic objects. The pleating and folding of these garments bring to mind the creations of the Japanese fashion designer Issey Miyake whom Grethe Wittrock also names as an artist who has influenced her work.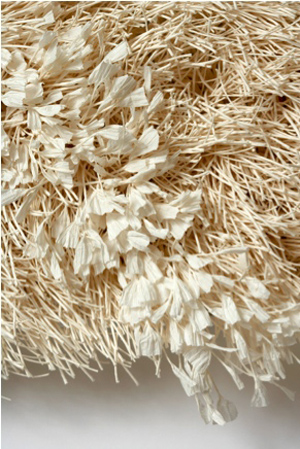 Grethe Wittrock: Lime Grass and Nordic Wind, 2007. Walhanging.


To learn about more about Grethe Wittrock I recommend to not only visit her website but to also read the interview with her that for some reason is called "Embroidery Article".