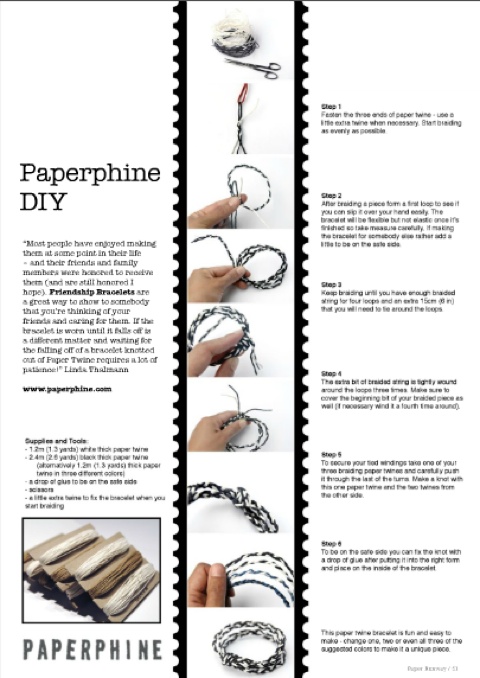 PaperPhine DIY: Paper Twine Bracelet in Paper Runway Issue 2 (page 51)
We love the internet and all the possibilities it offers, don't get us wrong. But as paper lovers we're always especially proud and honored if one of our products or the PaperPhine studio get mentioned in a printed publication – on "real" paper, so to say.
We already told you about the DIY that the lovely ladies over at Paper Runway published in their latest, second issue. Head over here to see it on page 51 or of course purchase Paper Runway to get a "real" papery copy – we're paper lovers after all!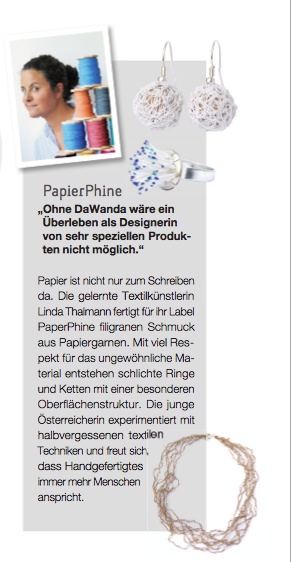 PaperPhine portrait in dawanda lovebook winter 2011 (page 15)
Also we've been featured in the recent "dawanda lovebook Winter 2011″ (in German only, sorry). And yes, that's a picture of PaperPhine's Linda you're seeing there.
… in case you're wondering: NO, we're not called "PapierPhine". We're called PaperPhine. Just to make this clear.
dawanda is marketing itself heavily and often with the wrong attitude towards sellers (e.g. I'm neither allowed to use the PaperPhine logo in the shop banner because it's "PaperPhine.com" and therefore leading people to another site – this one here! – nor can I mention the PaperPhine blog on the dawanda site for the same reason… interesting, no?). And dawanda also has a spelling problem, obviously. But still dawanda is playing an important role in the revival of DIY, arts and crafts in German speaking countries. The dawanda love book winter 2011 can't be purchased yet but you can have a look through it here – the choice of product is nice.