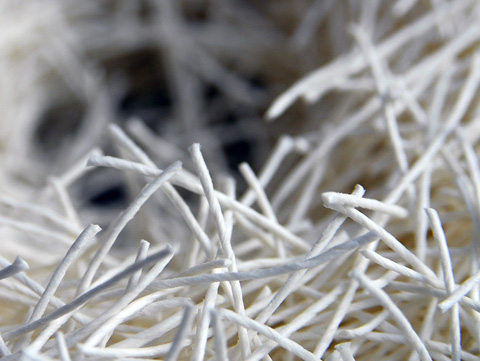 Paper Yarn "Spikes" for a new Purely White Paper Yarn Necklace


I have heard of blogger's mothers who turn up at their child's doorstep with a bowl of chicken soup asuming that their child was seriously ill – because there hadn't been any new blog entries for a while. My Mum on the other hand asked me today if I wasn't working because my last entry was a while ago. Actually I'm working so much that I couldn't find the time to finish the article on the History of Shifu (Japanese Paper Yarn) I started quite a while ago.

A first structure with Paper Yarn by Maria


Even though I'm enjoying a residency in the lovely Southern part of Austria with mountains and lakes just in front of my studio (a lot better than getting a heat stroke in Vienna!) I'm struggling to cope with all the "social responsibilities" a visiting artist has – and of course there is work to do as well! Currently I'm infecting the local artists and craftsmen and craftswomen with the paper-yarn-virus that is very contagious anyway. Above is a first structure by the local designer Maria whose focus usually lies in woodwork and sewing – yes, quite a combination and interesting the stiffness of paper yarn seems to appeal a lot to her.

My new lovely Paper Yarns in a lot of wonderful Colors


There is also a new delivery of beautiful colored paper yarns to sort through and if I don't get carried away and lost in a lot of new projects they will be available in my etsy store next week.
If you read my finally finished article on the History of Shifu this weekend it won't mean that somebody stopped by with some chicken soup but rather that I'll be on holiday in a different part of Austria and will have the time to finish the piece (so don't worry, Mum!).