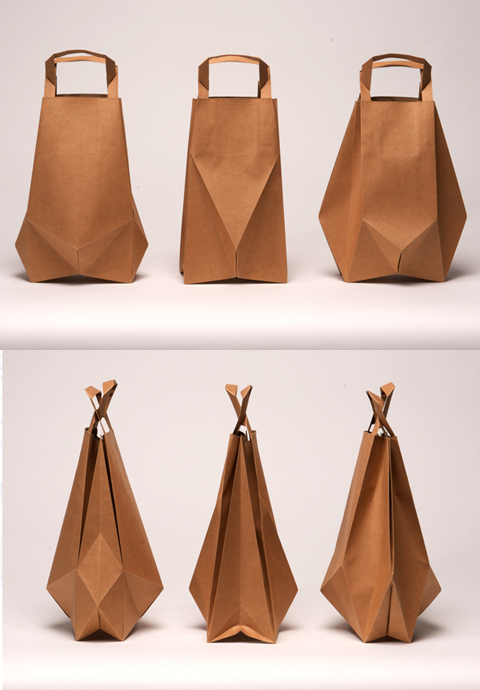 Foldbags by Ilvy Jacobs (Photography by Igor Kruter) – part of her graduation project and designed to "give a new view on everyday luxury "
Looking at my latest blog entries I just figured out that I provided a perfect gift-guide in what to put under the Christmas tree for me! So in case you're the significant other reading this – you had your chances! The paper bags by Dutch designer Ilvy Jacobs are definitely a want-have.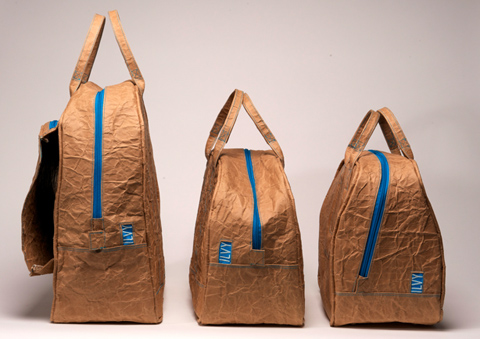 Crunchbags by Ilvy Jacobs
The Foldbags take a new look at the everyday object of the plain, brown paper bag and make a piece to keep rather than a piece to be thrown away – or perhaps even a collector's piece. The Crunchbags are made of made of cardboard laminated with fabric what makes them more sustainable. Their forms quite obviously derive from sports' bags and the functional factor is clearly more important than the sculptural approach.

Paper-Taped Bag by Ilvy Jacobs
I'm not completly sure what the idea behind Ilvy Jacobs' Paper-Taped Bag might be. But playful me loves the crumbling-up of one's sports' bag – just imagine a whole locker room full with crumbled-up bags. On the other hand this might also prove to be the weak point of these designs – trying to sell a product that is meant to last for months if not years out of a material that people don't trust when it comes to sustainability. The Foldbags on the other get it perfectly right and don't propose anything except making our lives a bit more beautiful.