Paper Jewellery. Design & Make – a book by Sarah Kelly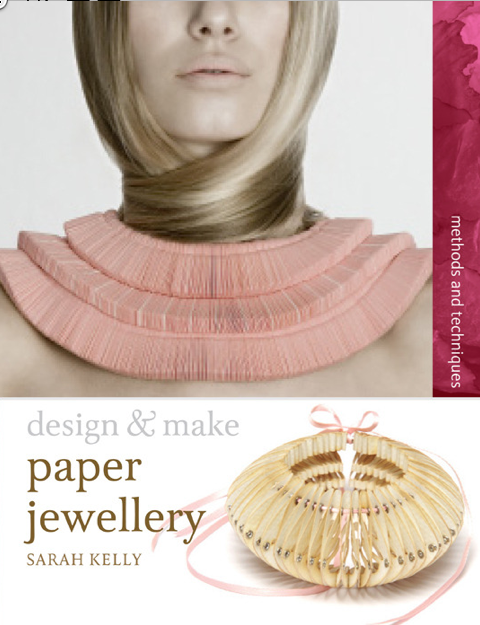 Jewellery on the cover by Janine Eisenhauer: Etikette Necklace, 2004 and by Saloukee (designed by Sarah Kelly): Solitary Bracelet, 2010. (Photography by Friedmann Rink and Gemma Dewson)
We were really excited when we heard about a book project by Sarah Kelly who is the owner and designer of Saloukee last year and we jumped for joy when we heard that one of our paper yarn bracelets was to be included in the book. This autumn we finally received our copy of Paper Jewellery. Design & Make by Sarah Kelly and by now everybody in the studio owns a copy so that the discussion who was allowed to take home the initial copy finally came to an end (thanks Mrs. Accountant for understanding our business expenses).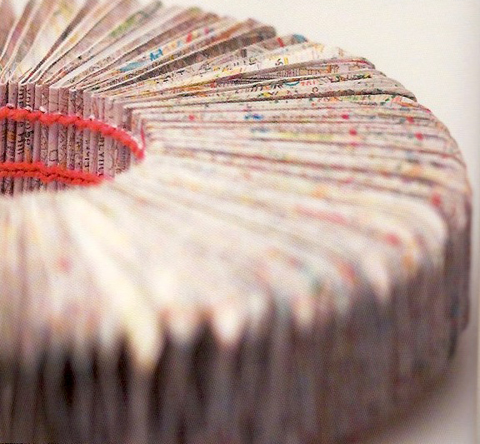 One of the pieces that are explained in-depth in the book: Paula Tew: Bound Paper Object, re-purposed paper, thread (Photography: Gemma Dewson). Each step of the instructions is accompanied by a clear and detailed picture that is easy to understand and follow.
The really nice thing about this book is that it really inspires you to start making and creating. There are six chapters that cover different techniques with one project covered and explained in detail and a picture gallery with works by international artists:
– sculpt, fold flaunt (Sarah Kelly)
– twist, knit, knot (Sally Collins)
– repurpose, collate, combine (Paula Tew)
– find, encapsulate, keep (Jessica Mason)
– layer, form, finish (Clare Goddard)
– cut, stack, repeat (Sarah Kelly and Soner Ozenc)
As you can see the projects and instructions were designed and explained by specialists in their respective field – e.g. Sarah herself explains how sculptural pleating works in the first chapter and in another chapter how to create a necklace using laser-cutting multiples. The designers/makers themselves are introduced in the last chapter followed by a paper list, extensive glossary and a list of recommended suppliers. So all the information you might need to get started can be found in the book.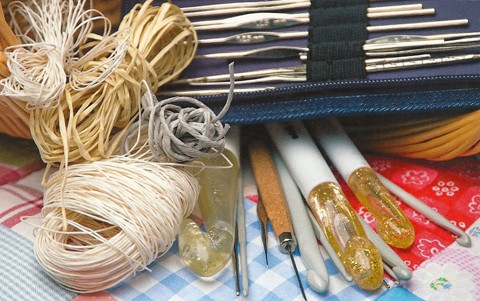 The piece of jewellery explained in the "twist, knit, knot" chapter: Sally Collins: Superfrilly Crocheted Necklace, paper yarn (Photography: Gemma Dawson) and some of the tools and supplies that Sally Collins recommends for these techniques.
The techniques used and explained in the chapters include encasing, crocheting, moulding, sculpting, cutting and binding, with paper types ranging from origami papers, to found papers, to paper yarn so you will surely find something you want to try out for yourself, too. On the PaperPhine blog we already introduced some of the paper jewellery artists and makers so if you've been following us you might recognize some of the names and we'll keep introducing more of them – or you can get a copy of Paper Jewellery. Design & Make and start creating yourself.
Thanks again to Sarah for all her enthousiasm and work – and for a wonderful book!
Website of paper artists and jewellery makers mentionned in this blog article:
Sarah Kelly: saloukee.com
Janine Eisenhauer: www.etikette.biz
Paula Tew: www.paulatew.co.uk
Sally Collins: www.sallycollins.co.uk
Jessica Mason:www.jessicaelizabeth.co.uk
Clare Goddard: www.claregoddard.com
One Response to "Paper Jewellery. Design & Make – a book by Sarah Kelly"