New Stained Wooden Bobbins (not only for Paper Twine!)
We're forever trying to organize all the paper twines and paper yarns in the studio and therefore we're always looking for new bobbins. It's not easy to find bobbins these days – it seems that there are no bobbin makers left at all! Luckily by now we have an idea of where to look and whom to ask… Thanks to the newest delivery of New Stained Wooden Bobbins the studio actually looks quite organized at the moment.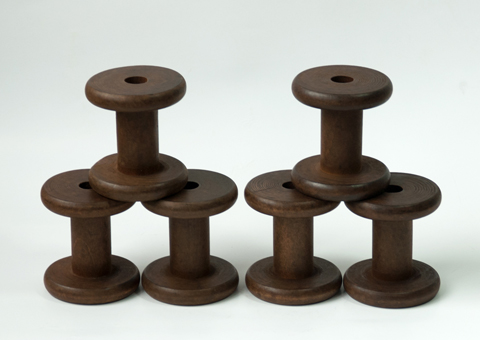 We want to help you to organize your working space and help with keeping the bits and pieces of string, twine and ribbon in your home under control – and of course to make it an inspiring place to live and work in. Therefore we listed some of our new bobbins as sets in the PaperPhine etsy shop. In case you need more bobbins to get your personal stash organized just get in touch.