A new studio helper: a dress form in the making
We do have one dress form in the studio that is a big help for taking all kinds of pictures when no one else feels like modelling. We tend to call her – and it's obviously a she-form! – Suzie or Stracciatella and both quite affectionally, especially the later. To explain, Stracciatella is one of the studio's favorite ice-cream flavours ("… gelato with a vanilla base and chocolate shavings… It is somewhat analogous to chocolate chip ice cream in North America though the chocolate is intended to be less chunky and more integrated with the gelato. It was invented in 1962 by Enrico Panattoni, the owner of the "La Marianna", a gelateria in Bergamo in northern Italy." – wikipedia).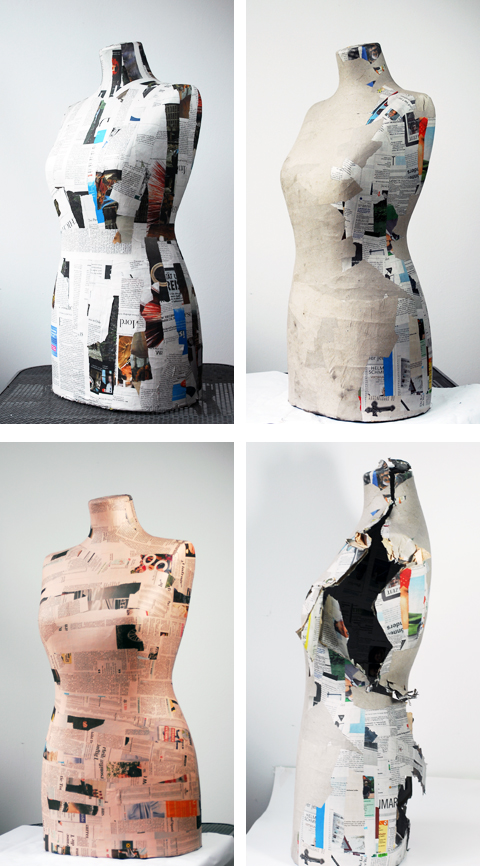 Making a new dress form: layers and layers of differently colored newspapers…
What we like about our old Suzie-Stracciatella is that she's made of paper from neck to waist (with a wooden base and a neckpiece) so she fits perfectly into the PaperPhine studio. Unfortunately it was impossible to find an all-papery sister for Suzie and therefore we decided to make a dress form ourselves. Based on Suzie – literally formed over her – the new dress form is not quite finished yet.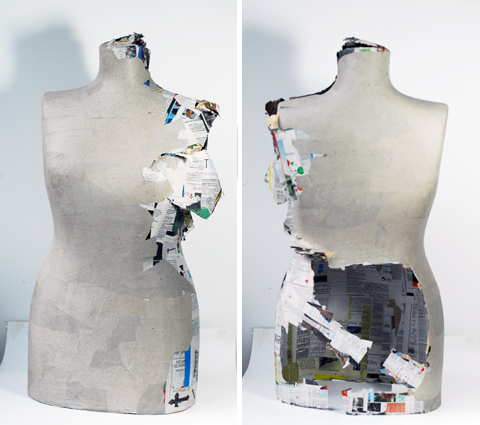 Taking the new form off the old one was more difficult than expected so now there is a lot of patching to do. Also we have not yet decided what "skin tone" the new dress form will get but we think about a neutral gray so she can wear paper twine jewelry in all colors. And there is no name yet but surely there will be one right after the next visit to the ice-cream parlour!