peng by Sophie Baumgärtner: paper brooches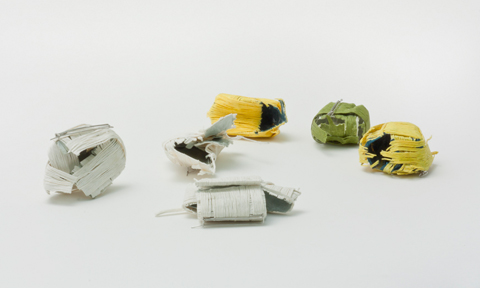 Sophie Baumgärtner: peng, paper twine, tissue paper, stainless steel brooch needle
How to better start into the New Year than with a lovely New Year's cracker? And even better: a cracker you can actually wear the whole year?
But to start at the beginning let me explain that late last year we got a super-urgent order by German Jewelry Design student Sophie Baumgärtner for a "suprise". A couple of days ago I found these great pictures in our mailbox of the "suprise": Sophie's recent side project of "peng" brooches.
Handmade out of paper twine and sometimes a lining of colored tissue paper the brooches are carefully mounted on a stainless steel, nickle-free brooch pin. Sophie's inspiration for these pieces – by now there are four different lines – are indeed New Year's crackers and the sound they make then exploding: peng!
Besides the "peng" brooches Sophie is currently working on her diploma at the Kunsthochschule Burg Giebichenstein (Good Luck!) and is also co-curating the Schmuckkantine, a platform for contemporary jewelry.