DIY Kits: Paper Twine Knit Baskets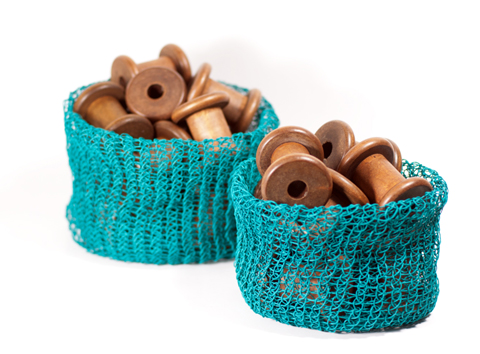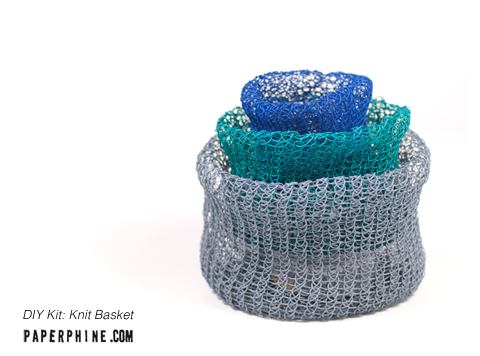 Round 'n round … and finished is your paper twine basket! After the big success of our knit bangle DIY kit you can now also make your own paper twine knit baskets – fun and easy and no knitting skills required!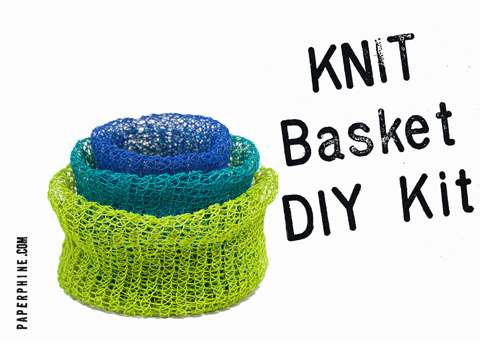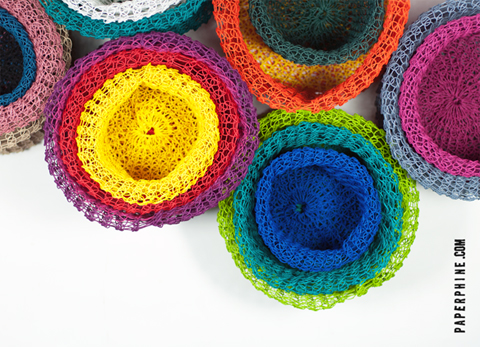 Our Knit Basket DIY Kits are availabe in three sizes and include everything you need to make your own baskets:
– A round knitting loom (diameter 13.5cm / 5.3 in)
– Hook tool
– Strong Paper Twines
– Detailed instructions on how to make a basket, shape it and possible finishing touches
– An extra postcard for you to keep our give away with one of the baskets
and you can even choose and personalize the colors for your very own DIY kit. A total of 24 colors are available and 5 of them a exclusively available as part of our DIY kits. All kits are packed in a beautiful cardboard box filled with fun paper frizzels to protect the precious contents.
We need to warn you though: the risks are high that you'll get hooked! Luckily paper twine baskets make a beautiful gift as well so keep knitting and all your friends will love you for it! Just get some more strong paper twine and keep knitting and knitting…
Paper Twine Baskets & Water:
Our strong paper twines are also used for the manufacturing of carpets and are very sturdy. They're colorfast and do not stain when wet. It's no problem to wash them gently by hand or to rinse them from time to time. You will need to re-shape your baskets after the washing (instructions found in the DIY kit).
To keep your baskets in perfect condition for a long time we suggest to nevertheless avoid contact with water when possible and to never leave them humid for long (let them dry!).
The DIY Kits: Knit Baskets are also available in our Etsy store.
2 responses to "DIY Kits: Paper Twine Knit Baskets"