Paper Artist Aimee Lee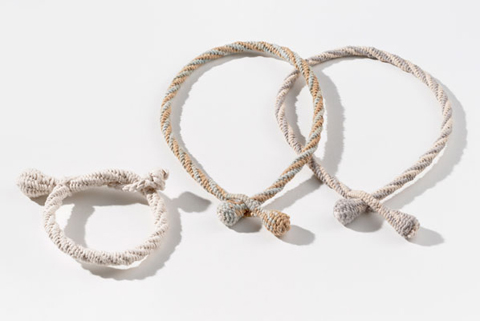 Jewelry (2009). Spun and woven hanji, persimmon, indigo, and clove dyes.
Out of inattention I called Korean handmade paper "Washi" in one of my posts… but luckily an expert did pay attention and pointed me not only to the right term (Hanji) but also to her great website with unique research on Korean paper making and paper weaving. After getting her MFA in Interdisciplinary Book and Paper Arts at Columbia College, Aimee Lee went to Korea for an extensive, one-year research of Hanji's history, practice and further techniques it's still in use for today.
I had seen videos of Japanese papermaking before but Aimee's videos on Korean papermaking as well as her own attempts are documenting a slightly different process – and even differences between the methods employed by different masters.
As you can imagine I especially enjoy the information and documentation of making and weaving paper yarn in Korea. The picture above (a still out of one of the videos shows how master weaver Na Seo Hwan is about to make a chamber pot (yes, indeed)…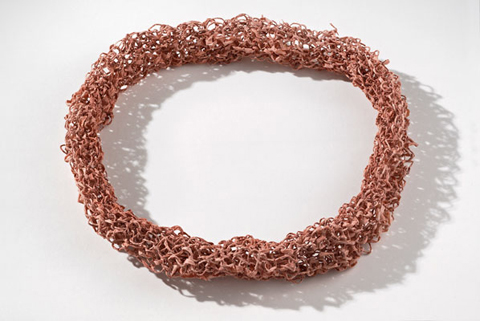 Round (2008). Handmade abaca paper, spun and knit.
But Aimee's website is not only about traditional techniques and applications of Hanji but also about her own work incorporating her wide range of knowledge on paper and possibilities with paper.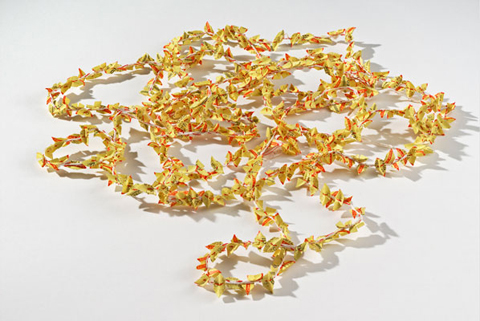 Currency flight (2008). Price tags, thread, spun handmade paper, variable installation length
A lot to see and learn – thanks for sharing your knowledge, wonderful pictures and videos as well as your own work with everybody!
2 Responses to "Paper Artist Aimee Lee"