How to Crochet Paper Twine Flowers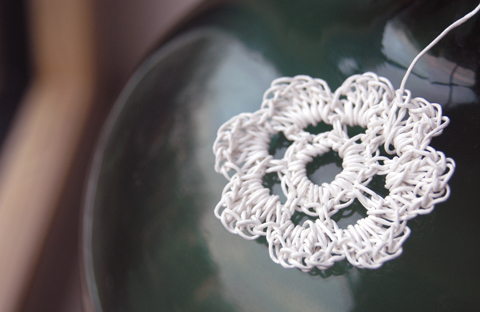 White Crocheted Flower made out of Strong White Paper Twine
Spring is in the air and sometimes there are some even some rays of sun that make their way into the studio. But mostly winter hasn't lost its grip yet here in Vienna – so to brighten up our days we were crocheting Paper Twine Flowers this week. The White Flowers catch the light beautifully, cheer up everybody and are a wonderful addition to our vintage-themed decor.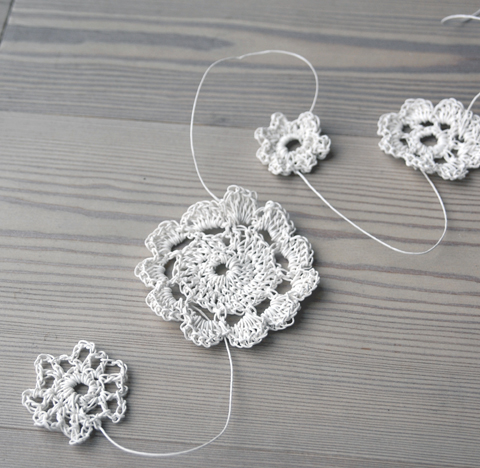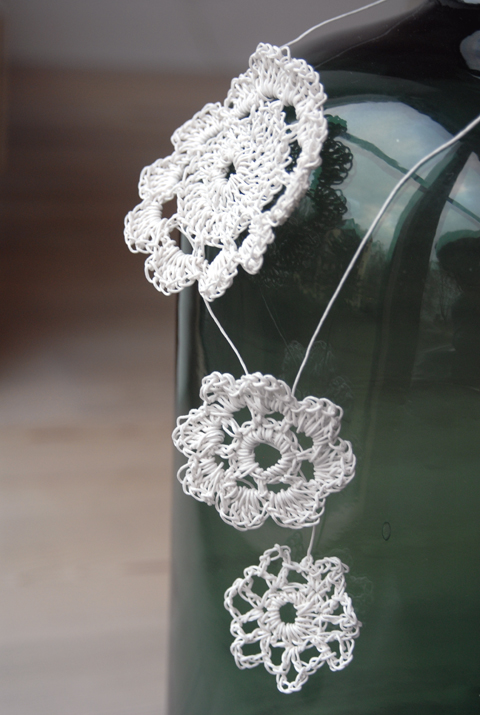 HOW TO…
There are a lot of instructions on how to make crocheted flowers on the internet. All the flowers we made are variations of free, found patterns.
– When you choose a flower pattern opt for one of the simpler ones. Working with Paper Twine means that single stitches will be seen and won't "blend" into each other as they do when you use cotton yarns or wool.
– Your Paper Twine Flower will be bigger than when you use any other yarn. The "hole" in the middle will be bigger, too, and become a beautiful feature of the finished flower.
– Crochet stitches out of Paper Twine will need more space than other stitches. Therefore it's better to plan your Paper Twine Flower with one petal less than the pattern says so you have enough space for the stitches to lie evenly in the round.
– For each a small flower you'll need about 3-4 yards of Paper Twine, for a medium flower 5-6 yards and for a really big one up to 14 yards.
– Crochet hook: in Europe you'll want to use a hook size 2 (2mm), in the US look for a B/1 and in Canada/UK a hook size 13. Depending on your way to crochet you'll have to adjust the hook size.
– Finishing the flower: carefully draw the paper twine through some of the stitches on the backside with your hook (you can also use a needle but you'll need a really big one with a huge needle eye). Either finish with a small knot before cutting the twine or use a tiny bit of glue to fix the cut end within one of the stitches/loops.
– Finished flowers can be joined together to form a garlande or you can easily make a brooch out of a single flower by attaching it with a small safety pin.
Of course you can also make Paper Twine Flowers with colored Paper Twines – e.g. in Soft Reds and Yellow – we're already working on some of these to show to you. Stay tuned.
… and now: get hooked!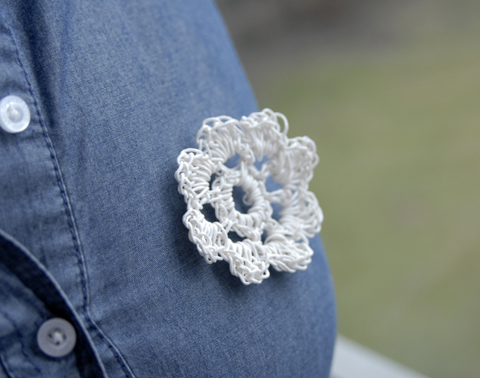 Medium Size Paper Twine Flower attached with a small safety pin to make a simple and cool brooch
More ideas to use the Paper Twine Flowers for:
– embellish your gifts (the smallest flower already found a new owner this way – wrapped in simple brown craft paper with the white flower and a little white twine)
– fix onto a hair tie with a stitch or two for a elegant grown-up-girly-style hair-do or onto a barrette with a drop of glue
– make the garland even longer and decorate your whole flat with it – also looking great in front of windows
– inviting people for a nice dinner? make nice rolls out of the napkins, wrap some white paper twine around it and fix the paper twine flower on top
– join a couple of paper twine flowers together petal-to-petal to make a spring-time necklace
Let us hear your ideas and leave a comment or send us a picture of your paper yarn projects to office (at!) paperphine.com
4 Responses to "How to Crochet Paper Twine Flowers"