Some Grass for the Elephants, please!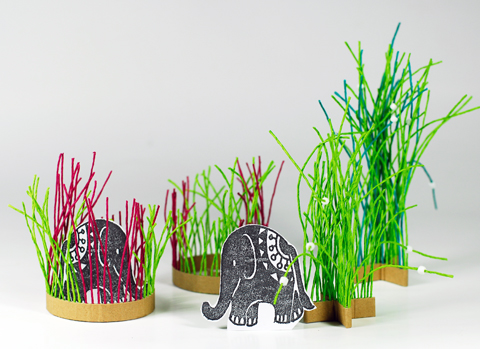 Elephant stamps by Noolibird and some home-made paper twine grass
Ever since I brought back an elephant stamp from Noolibird from the Selvedge Christmas fair last December it has been a favorite of my now four-and-a-half-year-old niece. So when she came to Vienna for a visit last week and stopped by in the workshop for some quality-aunt-niece-time after a visit to the famous Schönbrunn Zoo we had to hunt down the stamp and inkpad immediately.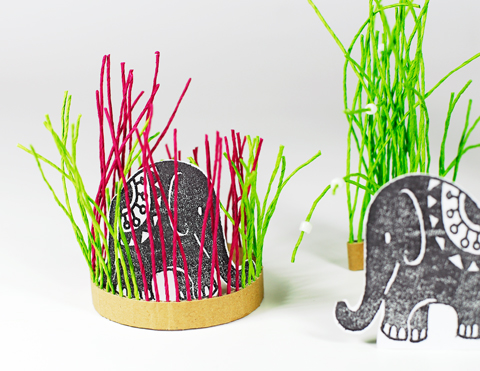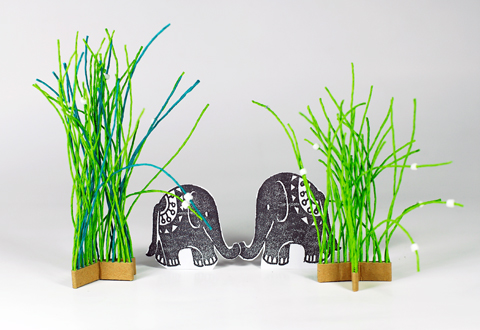 In case you're wondering why we have elephants facing each other (and only one elephant-stamp): my niece decided that we had to have kissing elephants and some scanning, turning around and printing later it was done!
But as any four-and-a-half-year-old will be able to tell you an elephant needs grass – and lots of grass! – to eat and preferably also a place to sleep. So while my niece was cutting the grass (green paper twine) and the material for the house (magenta and green paper twine) I quickly cut some strips of fine corrugated cardboard and folded the "roots" (cross-shaped) and "foundations" for the houses (round-shaped) out of it. Then we put the ends of the cut paper twines into the small holes of the cardboard, added some glass beads to the grass as fruit (very hungry elephants!) and were both very disappointed when my brother and sister-in-law showed up to collect their child…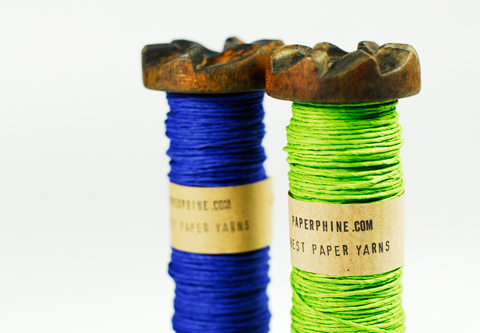 In case you need to grow some of your own paper grass then the green paper twine can be found here. Meanwhile I'm thinking about getting more Noolibird stamps – hoping that the lion will eat grass, too!
2 responses to "Some Grass for the Elephants, please!"