Behind the scenes: the design process for KNOT Paper Twine Jewelry

Prototypes for the new KNOT Paper Twine jewelry line
The process to arrive at a finished jewelry design can take quite a while. Usually I start with an idea for a piece, sometimes sketch, sometimes the idea for a new or simplified technique. For the newest pieces in the PaperPhine collection the technique was found quite easily: knots. The knots take advantage of the paper twines' "body" – the knots form nicely and make little bulbs – and allows to combine different colors in one piece. The technique is simplified and tuned down to its bare essentials and therefore gives the pieces a modern edge.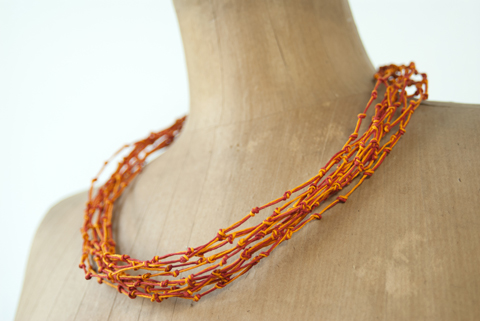 Made by PaperPhine: Red-Orange Knotted Paper Twine Necklace – a unique piece
The early prototypes are all one-of-a-kind and I tested a lot of different color combinations. The knots already showed beautifully but I was still looking for a simpler form that would allow the wearer to wear the necklace long, short or with a decorative huge knot-like loop. I like wearing bracelets myself a lot (ask the boyfriend about the collection of bracelets and bangles…) so I saw the possibilitiy to wear the piece not only as a necklace but also as a bracelet as a definite bonus.

Made by PaperPhine: Blue Knotted Paper Twine Necklace – another one-of-a-kind color combination
By now the design of the KNOT line is refined and we've made a couple of pieces in different colors. Our Facebook fans already got a first glimpse of the finished designs and in a few days I'll talk about them right here on the blog.
A sidenote: Yes, it's paper. BUT it's strong paper, or rather strong paper twine to be exact. This means the KNOT pieces can not only get wet but theoretically you could even put them into the washing machine and not much will happen except some entangeling. Nevertheless we recommend to keep paper jewelry out of the wet so you can enjoy it for a lot of years (and perhaps the pieces even become heirlooms).
One Response to "Behind the scenes: the design process for KNOT Paper Twine Jewelry"