Contemporary paper jewelry by Angela O'Kelly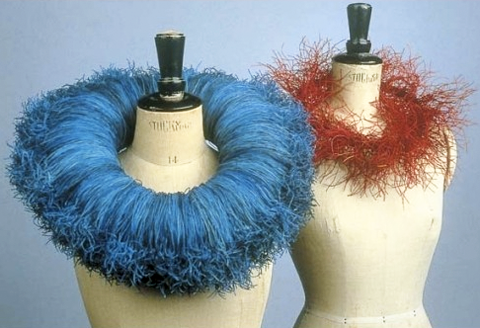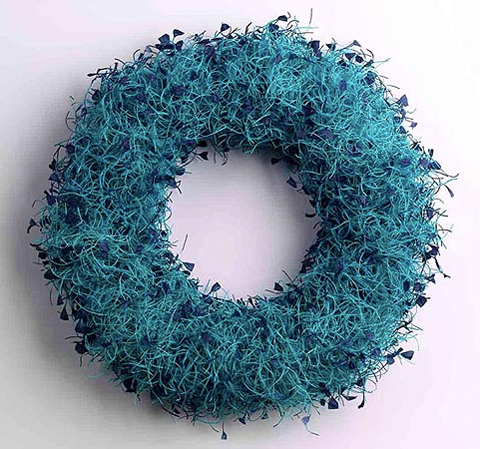 Angela O'Kelly: "Tufty Necklaces", hand dyed paper cord, felt, wire
Ever since I came across Angela O Kelly's work for the first time in Sarah Kelly's book Paper Jewellery I've been a huge fan. Angela is a contemporary jeweller working with different mixed media materials – paper and even paper yarns are only two of the materials she uses but they do appear on a regular basis in her work. Angela's homepage is full of wonderfully photographed pictures of her pieces.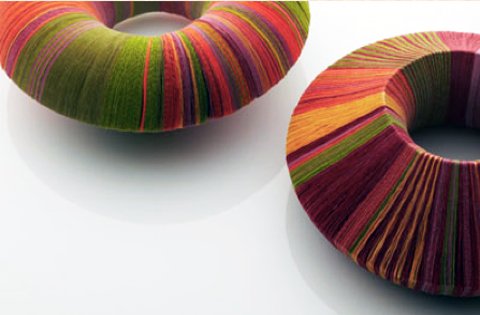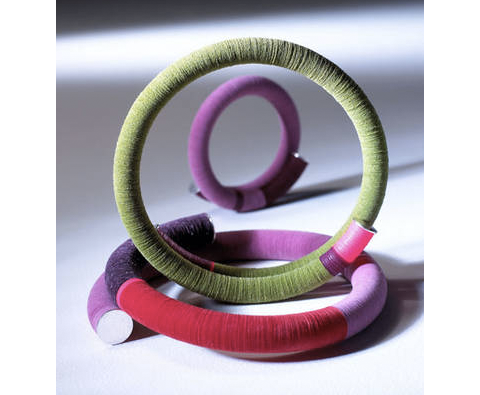 Angela O'Kelly: "Arm Pieces" and "Paper and Silver Neck Pieces and Bangle", fabric paper, paper, silver, felt, elastic/steel wire
Angela studied Jewellery and Silversmithing at the Edinburgh College of Art, Edinburgh and Arts Management and Cultural Policy in University College Dublin. As Angela explains herself her "… work in paper jewellery began when experimenting with paper making and paper manipulation while studying for a jewellery degree at Edinburgh (…). I found that I could achieve a spontaneous, light, tactile and colourful effect when working with paper." Today Angela combines paper with other materials – e.g. fabric, felt, metal and cord – and uses a wide range of textile and jewelry techniques constantly crossing the boundaries between sculpture, textile art and jewelry design.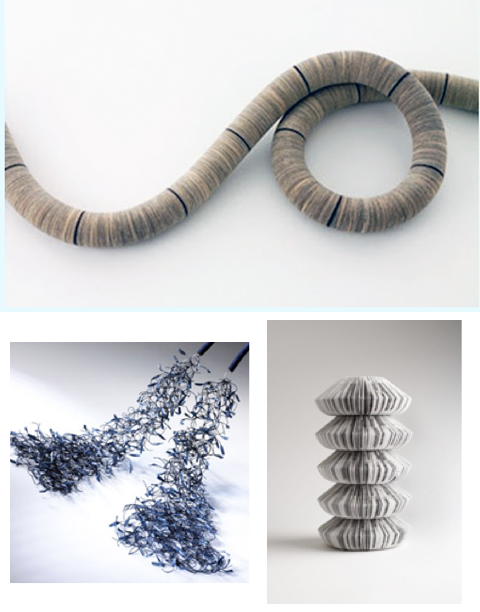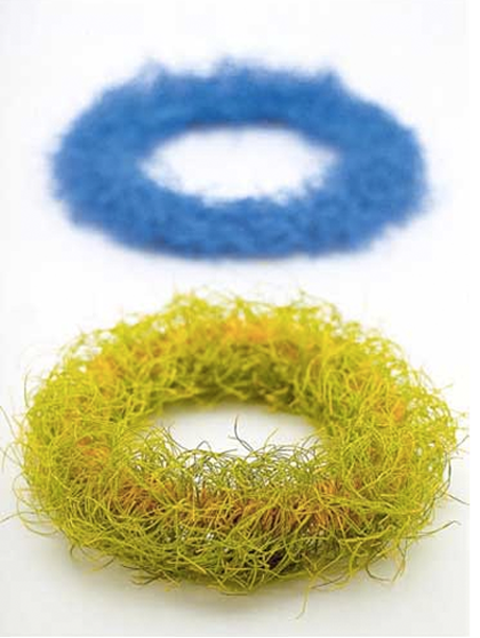 Angela O'Kelly: "Sculptural Neck Piece", Financial Times newspaper, "Stack", recycled postcards and "Navy Neck Scarf" dyed paper yarn, plastic (top) and Angela O'Kelly: "Sculptural Neck Pieces", dyed paper yarn, plastic (bottom)
It's not too hard to see Angela's fascination with simple shapes, textures and repetition in her work. Living in Ireland a lot of her inspiration is taken from observing landscapes, boglands, rock formations and sea life. "Colour is very important, with earthy browns and greys, and vivid greens, blues and reds from the sea, featuring throughout my work. Texture is my main consideration, acheived by layering hard and soft fibres and knotting and sewing paper cord."
As you might imagine I find Angela's pieces fascinating. Once again paper is a medium that allows to cross the boundaries – in this case between sculpture, textile design and jewelry arts. Also the combination of paper with other materials is underlining the qualitites of paper – it's structural soundness and only perceived fragility – and of course the play of colors in Angela's work is just amazing.